The motive for Traveling to Namibia
It Is A Secure Location. In Africa, Namibia is regarded as one of the safest nations. Namibia has experienced decades of political stability and sound governance since achieving independence from South Africa in 1990. This has aided in promoting peace and investing in infrastructure and education.
(For Africa Bow Hunting, visit Burchell-Wolf Safaris)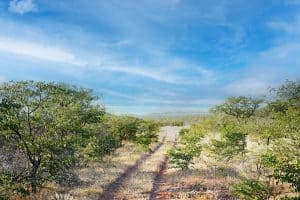 Top Natural Attractions in Namibia
If you're interested in visiting the country's natural attractions, consider a trip to Namibia. Located in southwest Africa, Namibia is characterized by the Namib Desert along its Atlantic Ocean coast, and its diverse wildlife, including a significant population of Cheetahs.
Windhoek, the country's capital, and Swakopmund, a coastal town, are popular destinations. A stop in Windhoek is worth the visit, and you'll also find a church built in 1907 there. In addition to the capital, you can visit the salt pan and rhinos in Etosha National Park.
Etosha National Park
In northern Namibia, you'll find a large, endorheic salt pan known as the Etosha pan. This hollowed out area collects water and then evaporates leaving nothing but salt behind. Hundreds of animals and a variety of plants make this area a unique place to visit. A day trip to Etosha National Park will give you the chance to see the elusive black hyena and the incredibly rare giraffe.
Waterberg Wilderness
Located in the foothills of the Waterberg Plateau, the quaint, refurbished Waterberg Wilderness Lodge is an ideal base from which to explore the stunning landscape. Featuring eight double rooms and four family suites, the rustic and elegantly decorated rooms boast a veranda overlooking lush gardens and the nearby mountain. The hotel's restaurant is a pleasant oasis amongst the lush vegetation and boasts a free WiFi connection. Nearby springs are known for their clear, drinkable water.
Fish River Canyon
If you've ever wanted to see the desert wildlife in Africa, then you should visit Fish River Canyon in Namibia. This arid region of Namibia usually has pools of water in its middle reaches during the dry season. In the early and middle Stone Ages, people from the area lived in the area, and many early sites have been found near bends in the river. The area was recently linked with Richtersveld in South Africa, which makes it Namibia's first transfrontier park.
Sossusvlei
Sossusvlei is a large clay and salt pan surrounded by high red dunes in Namibia's Namib-Naukluft National Park. It is often referred to as Sossusvlei, but this term can also apply to the surrounding area. It is one of the main attractions in Namibia and is often used as an extended name of the surrounding area. Sossusvlei is a great place to visit for those who are visiting the country.
Kaokoland
Kaokoland was a bantustan or administrative unit in northern South West Africa. It was created during the apartheid era to be the self-governing homeland of the OvaHimba. Unfortunately, it never had a functioning government. Today, its population is largely made up of people from the former OvaHimba communities in Namibia. Despite its infamous history, Kaokoland is now an important tourist destination in Northern Africa.
Swakopmund
If you're looking for a beach getaway, head to Swakopmund in Namibia, a coastal city west of Windhoek. The town's sandy beaches face the Atlantic Ocean. This German colonial town was settled in 1892. Visit the Lighthouse, a landmark of colonial days. The Swakopmund Museum documents Namibia's history. And, the former Railway Station is now a hotel.
Mbunza Living Museum
Visit the Mbunza Living Museum in Namibia for a unique cultural experience. This traditional school preserves traditional culture and generates additional income. The museum has been around for more than three decades, and has provided visitors with the opportunity to learn about the Mbunza way of life and culture.
To book a visit, contact the Mbunza Living Museum. They offer day trips and accommodation. There are no pre-booking requirements, but you should plan ahead. You should also contact the Living Museum manager in advance to discuss the duration of your program.