What Makes Namibia Special?
Namibia boasts some stunning, exceptional, and unusual landscapes. There are countless attractions and activities. However, the most astonishing appeal of them all is the entire journey. Even just driving across the countryside will be an experience unlike any other.
(Want to experience African Bird Hunting, contact us today!)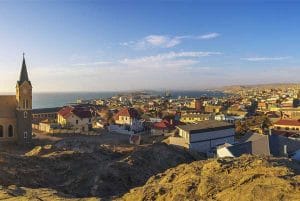 Why Tourists Are Drawn to Namibia
The vast expanse of Namibia is the embodiment of Africa, and this pristine country has many different things to offer. This incredibly diverse land has everything from the red undulating dunes of the Kalahari desert to black rhinos and desert-adapted elephants. It is home to the ancient San, the colorful Herero, and the nomadic Himba. And while the land is a bit cold, it is definitely worth the long flight.
Sossusvlei
There are a few things that make Sossusvlei in Namibia so unique. The dune sea is located in the Namib Desert. The most interesting thing about this place is that it is open all year long. In addition to the dunes, this area is also home to a canyon, Sesriem Canyon. Early Afrikaans explorers named the canyon after how they could lower buckets into the canyon. The canyon is full of impressive rock formations that have been shaped by the Tsauchab River over millions of years..
Spitzkoppe
If you are planning a vacation in Namibia, you will want to see the spectacular landscape of the country. While you're there, be sure to take some time to explore the many activities available. Hiking, rock climbing, and stargazing are all popular pastimes. The Spitzkoppe Granite Peaks, standing at a height of 700 meters, are a photographer's dream. During the golden hours, you'll be able to view these magnificent landscapes in the distance.
Etosha National Park
Visitors to Etosha National Park will want to plan their trip during the dry season, when there is little rainfall and vegetation is at its shortest. This time of year offers a chance to see a wide range of animals around waterholes, as well as the rare bird species found only in Namibia. Because of increased numbers of tourists, Etosha is a popular destination in the winter, which is also the dry season.
Kaokoland
The mountain elephant and its unique adaptation to a life with little water are some of the attractions of Kaokoland. In the north-western region of Namibia, you can visit the Saxon half-timbered Altes Gefangnis jail or the ochre-hued Woermannhaus, which is home to the city's beer halls and pubs. The latter is particularly worth a visit if you have a fondness for architecture.
Windhoek
Travelers to Namibia may be interested in its rich indigenous history, its vast expanses of rocky mountains, orange-and-white sand dunes, and empty savannas. Its rugged Atlantic coastline is one of the world's most dangerous. However, the country's cuisine is not as bizarre as it may seem. You can sample local dishes, such as braai and potjie, and eat healthy while you're traveling.
Kolmanskop
The ghost town of Kolmanskop is located in the Namib region of southern Namibia, ten kilometers inland from Lüderitz. It is named for Johnny Coleman, a transport driver who abandoned his ox wagon in the middle of a sand storm. Coleman was a popular tourist destination in Namibia, but many people aren't aware that he was the man who first named Kolmanskop.
Fish River Canyon
Known as one of the most beautiful canyons in the world, Fish River Canyon cuts deep into the arid plateau, surrounded by hardy and drought-resistant plants. It flows intermittently and floods in the late summer, creating long, narrow pools. The canyon's lower end is located near the town of Ai-Ais. It is part of the Ai-Ais/Richtersveld Transfrontier Park, though 90 km of it is privately owned and not accessible to the public.
Self-catering accommodation
Self-catering accommodation in Namibia is widely available and affordable. Many tourists enjoy staying in hostels, as they offer cheap rates and small apartments with basic facilities. You can even opt for a pop-up tent on the roof of your 4×4 vehicle. You can also enjoy discounts on local activities when staying in a hostel. Most of these hostels are located in Windhoek, the capital.