Namibia Hunting – A Safe Safari Destination
As the second-lowest population density in the world, Namibia is known for being one of the safest countries in Africa. After gaining independence in 1990, the country has enjoyed stability for over thirty years. Namibia's sparse population, ultimate hunting experience, and truly rugged and wild landscape are perfect for bow and rifle hunting, make for an incredible hunting adventure, and ensure exceptional trophy quality hunting.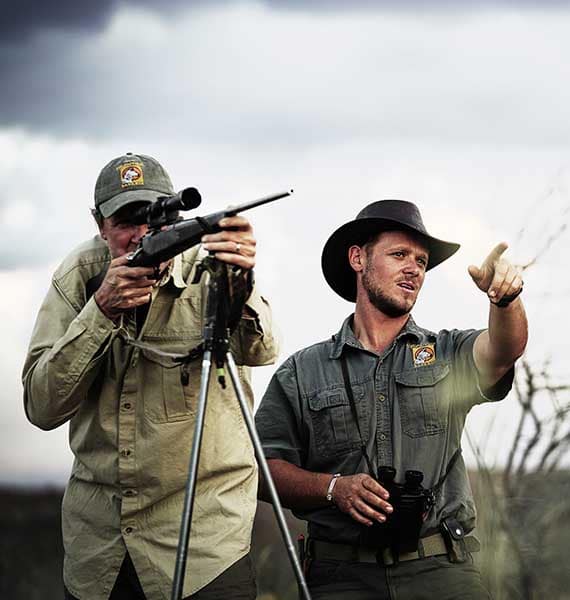 Hunting Africa
Take a step back in time to a Namibia hunting safari as Ruark experienced. Each client will be guided by one of our highly qualified professional hunters across our amazing privately owned, with exclusive hunting rights, off-the-grid, 30,000-acre wilderness concession. Hunt hard through the thorny lowlands and into the Mopane forested mountains where exceptional trophy quality eland and kudu in Africa can be found.
If bow hunting is your passion, the thick bush and mountainous terrain in the Etosha conservancy lends itself to successful archery hunting. Each of the 10 waterholes have a ground blind in addition to a couple of tree stands giving the archer a great opportunity at hunting trophies for the books.
Thick grass in the valleys and waterholes throughout allow hunting enthusiasts to find outstanding wing shooting. Flush Guinea hens and Franklin grouse in the morning then head over to the watering hole where 50 doves in an afternoon are typical. Wait until sunset and prepare for the attack of the Sand Grouse pitching into the water ten at a time.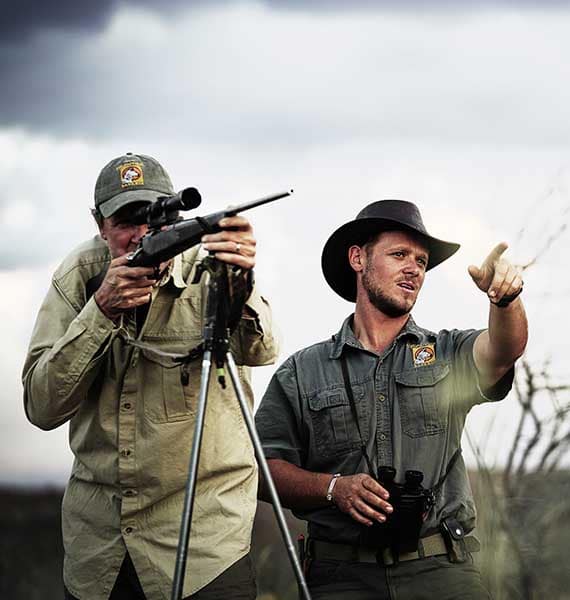 Meet The Owners
Burchell – Wolf takes its name from its owners Scot Burchell and Katie Wolf. This young couple will make your hunting safari one to cherish.
Scot is a third-generation professional hunter and was at one time the youngest licensed dangerous game PH in South Africa.  Reminiscent of a Harry Shelby, Scot is perhaps the best young PH in Southern Africa.  He was the most requested PH at Frontier Safaris where he grew up and began guiding at 17.  Scot is smart, strong, and experienced.  Check him out on YouTube.
Katie is a passionate hunter and writer.  Sports Afield was the first to publish her writings, an article about her first Kudu hunt in Africa.  She grew up in Bozeman, Montana hunting and fishing.  She graduated from the University of Montana Cum Laude in English.  Katie met Scot on her first safari in 2019 while working for Beretta, and as they say, the rest is history.  Katie manages the lodge at both camps and is the consummate host.  She will ensure that your camp experience is exceptional.  If you are accompanied by a non-shooter, Katie will ensure they have a great experience with photo trips on the properties. Katie leads the day and night trips to Etosha National Park and elsewhere.
What Guests Say About Our Safaris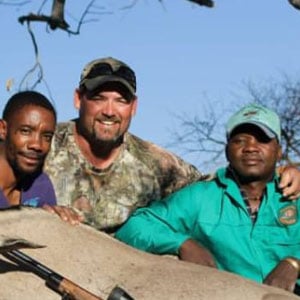 Bob Paro
"I know trying to decide on a place to go hunting in Africa can be difficult. Having hunted the Burchell's Trudia farm in Northern Namibia, I can tell you that it is a great hunting safari. The terrain has a rugged beauty with lots of great animals. 40 inch gemsbok, 50 inch kudu are all possible. The living arrangement is simple with tented chalets that remind one of days gone by with modern amenities. The Boma is the center of it all with great authentic African meals being served. Scot and Katie are gracious hosts who will instantly make you feel welcome and you will leave feeling like family. Everyone works to make your stay as comfortable as possible. Do not hesitate to book if you get the chance."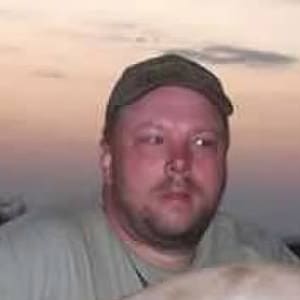 Jeff Smith
"Hi, I'm Jeff Smith I'm from Hernando Mississippi and my first and second s,hunting afaris were with Scot Burchell and his family. Hunting with them is the best experience I've ever had. Excellent accommodations, the food is great, and the friendliest staff you will ever meet. Their properties are huge and beautiful. The bird life in Namibia is just something you have to experience. Never a dull moment. We saw numerous remarkable animals and their trophy care is second to none. I cannot stress enough how important it is to have people care about your hunting as much as you do. You will arrive as a client and leave as lifetime friends. Thank you Scot for all my memories, I will cherish our friendship forever."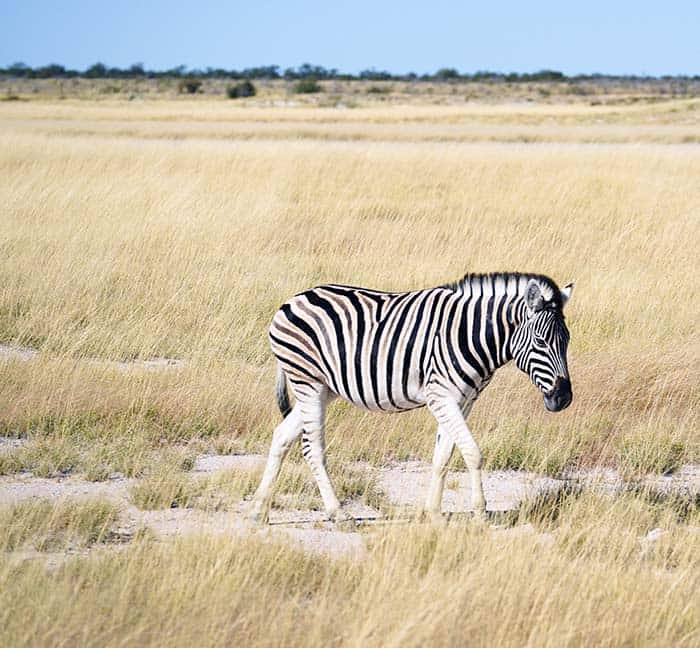 Hunting Safari Game
Namibia offers a diverse selection of hunting game animals. At Burchell-Wolf Hunting Safaris, you will find only the indigenous animals of Northern Namibia. Mountain Zebra, Burchell Zebra, and oryx roam the rolling hills. Klipspringers can be found sunning on a rocky outcrop in the early mornings. It is not uncommon to see a Damara dik dik or two coming in for an afternoon drink at one of our many watering holes.
The elusive Greater Kudu slips in and out of the Mopani trees while the eland travels far and wide. Descend down the mountain into the open valley to spot giraffes munching on the abundant leafy greens. Keep an eye out for steenbuck, duiker, and warthog darting by. Springbok can be found in the open grassy fields while the blue wildebeest, black wildebeest, and red hartebeest do as they please. With intimate hunting parties, such a large variety of species and challenging terrain, bow hunting safaris in Namibia are some of the most enjoyable hunting.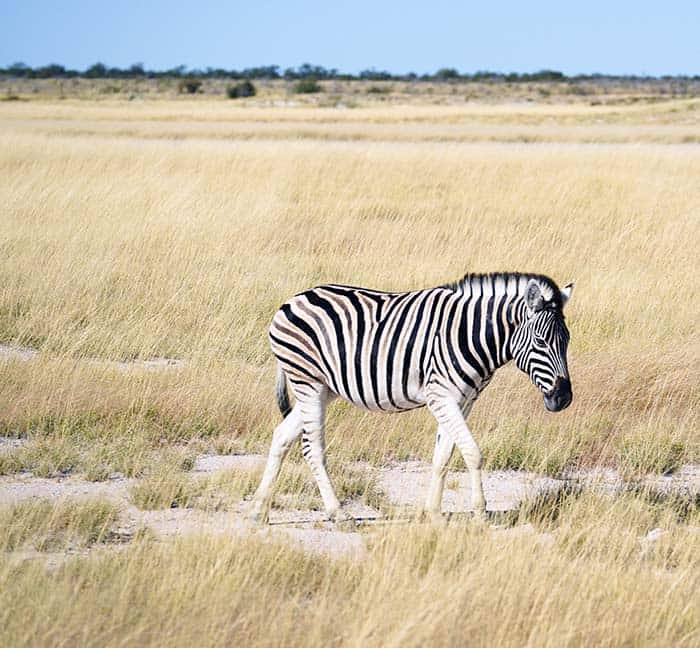 Top Hunts in Namibia
One of the main focuses at Burchell-Wolf Hunting Safaris is your trophy. Hunt in Namibia, in the Etosha Conservancy, and you will have a chance at world-class animals, including 55″kudu and bigger. In addition, the largest Cape Eland and Livingston Eland are found roaming the mountains of the Etosha Conservancy.
Focused on conservation, Burchell-Wolf Hunting Safaris manages the number of game species on the property to ensure a stable carrying capacity of the land. Managing these numbers through selective hunting protects the game populations and ensures an abundance of quality animals to be seen on each hunt. If a hunter is in pursuit of the tiny ten, the northern region of Namibia is the place to go. Four out of the ten tiny antelope: klipspringer, duiker, dik-dik, and steenbok, can be found roaming through the 50 square miles of Burchell-Wolf Hunting Safaris.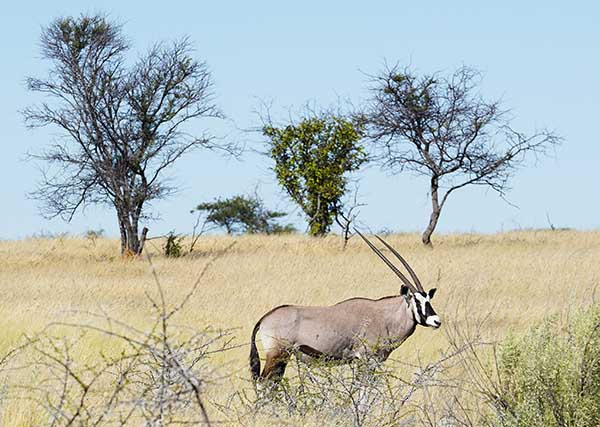 1×1 Plains Game Hunt
Family-owned and operated, Burchell-Wolf Hunting Safaris is able to give personal attention to each client that walks into camp. All clients are paired with their own professional hunter, unless otherwise requested, to provide the best service possible. Observers are always welcome to tag along and take in the hunt up close and personal. All hunting takes place between 1 Mar-31 Oct.
Namibia is known for being one of the best game hunting destinations in Africa. From the open valleys in the lowlands to the thorn bush covered mountains, Namibian plains hunting occurs on a wide variety of terrains. Due to the diverse habitats for game species, Namibia hunting is some of the best hunting in Africa.
Namibia Hunting Methods
Each hunt at Burchell-Wolf Hunting Safaris is adapted to provide choice and variety of safari hunting methods depending on the participants capabilities. The most common and successful method is the classic spot and stalk with rifle in hand. Whilst bowhunting, sitting silent at a watering hole can prove to be rewarding.
Challenging but effective, rifle hunting in northern Namibia is an unforgettable adventure. A hunter should be ready to walk as most hunts are spot-and-stalk. Safari style (from the vehicle) and blind hunting is also an option.
There are ten watering holes throughout the property, each equipped with a ground blind or tree stand. In addition, popular game trails and frequently visited salt blocks are accompanied by well-placed and discreet tree stands. There are also opportunities for walk-and-stalk for those hunters who prefer getting out and trekking through the bush.
What To Know Before The Namibia Hunting Season
Namibia hunting season is regulated by the Namibia professional hunting association (NAPHA). This organization ensures ethical plains game hunting safaris of the highest standard. At Burchell-Wolf Hunting Safari, we pride ourselves on wildlife conservation and management through the practice of ethical hunting. When a hunting professional comes to Burchell-Wolf Hunting Safari, they will find the greatest hunting safaris Namibia has to offer.
Bow And Rifle Hunters
There are many opportunities for bow hunting and rifle hunting in Namibia. With countless species to target including four of the ten tiny antelope and the largest eland and kudu in the world, hunting safaris in Namibia is a true adventure. Although not known to many, Namibia also has incredible bird hunting opportunities.
At Burchell-Wolf Safaris, we believe a hunter must take their opportunity when Africa presents it. This is one of the reasons we give hunters the chance to shoot off of our price list rather than be committed to a specified package.
For availability and dates please contact a Burchell-Wolf Safaris team member.
Season runs from: 1 Mar – 31 Oct

More Than Just a Hunting Lodge
The lodge is the perfect destination for all, from first-timers to seasoned hunters. With over 50 square miles and located in the Etosha Conservancy, our hunting territory consists of a variety of different terrains including an entire mountain range, bushland, and open savannahs with animals that score in the Safari Club International record book.
As a successful outfitter, Burchell-Wolf prides itself on superior service and hospitality. Clients will have the opportunity to sleep in a classic tented camp, enjoy incredible traditional cuisine made with game meat that they have harvested, and partake in additional fun activities for hunting and non hunting alike. Our boma is the heart of our camp, with an open thatched roof to enjoy the night sky and a fully stocked bar allowing hunting participants to indulge in their favorite drink alongside the roaring fire every night.
Safari Prices
At Burchell-Wolf, we know that hunting is all about the opportunities given. This is why we don't worry about creating packages and rather let our hunting enthusiasts simply pay a day fee and shoot off our price list. This allows the hunter to take the opportunities presented to him/her while out in the bush. We also know the best way to keep hunting relevant is to introduce it to the next generation. For this reason, we offer your groups to bring children 12 and under to join in on the fun with no day/observer fee.
Hunter's day fee (1×1) – $300
Observer fee – $180
Children 12 and under – FREE
Breakfast, lunch, and dinner
Lodging
House beer and wine
Transport to and from Outjo
Gratuity
Transportation to and from airport
Hard liquor
Trophy fees
Day trips and overnight trips
Dip and pack
Taxidermy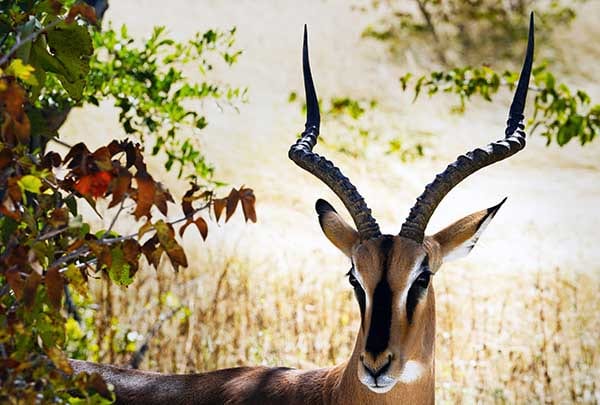 Get Started Hunting Trophies
Let us take you on a real African safari. Hunting Namibia is unlike hunting anywhere else in Africa. With truly rugged Namibia hunting and a vast number of species, come and experience the real, wild Africa.
Are you hunters looking to get started? Looking for amazing African hunting? Give us a call with any questions you have, and our friendly staff will be happy to help! Family and groups are welcomed!