Africa's Greatest Bow Hunting Destination
Burchell-Wolf Safaris provides the ultimate African bowhunting experience in the heart of Namibia. We have created the ultimate bowhunting sanctuary, home to unparalleled numbers of quality wild game species. While the most popular method of bowhunting in Namibia is done from ground blinds or tree stands situated strategically over watering holes and well used game trails, clients also have the option to walk and stalk.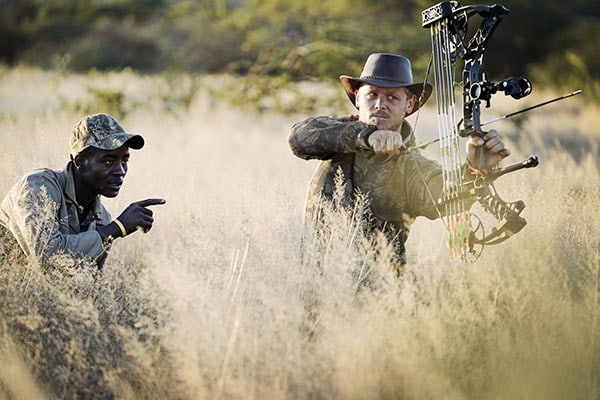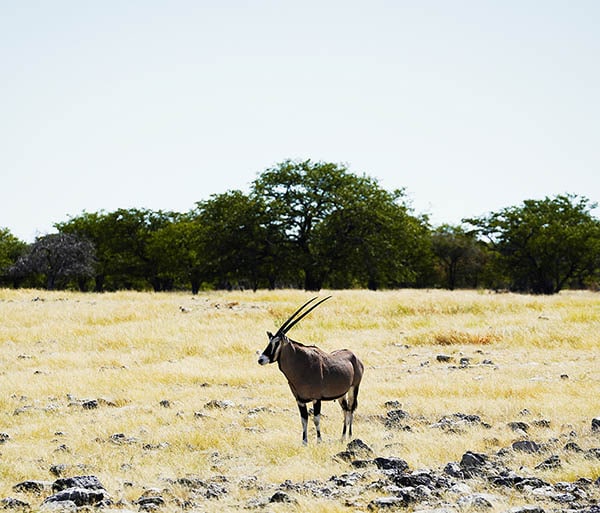 Our Recent Bow Hunting Adventures
Namibia is a bow hunter's paradise. Burchell-Wolf Safaris offers two types of bow hunting, still hunting from a blind/elevated tree stand, and walk-and-stalk. The abundance of game species gives the bow hunter plenty of opportunities at a trophy. The variety of wildlife and bush compliments the excitement of the hunt.
Each archer will be paired with a professional hunter who will guide the archer throughout the duration of their stay with Burchell-Wolf Safaris. Sitting in a blind near a watering hole is always an option as well as walk-and-stalk. The average shot distance is between 20 and 30 yards depending on the archer's capabilities. Moonlight highly affects when the animals are drinking so please call or email a team member at Burchell-Wolf Safaris to find out when the best time to plan your archery safari is.
Bow Hunting Information
Bow hunt in Namibia during a dark moon for the best chance at a trophy animal. Archers may sit in ambush in one of our ten ground blinds or walk-and-stalk across the 51 square miles of African bush. Bow hunting in Namibia is the ultimate challenge and adventure for the die-hard hunter. Family and friends are welcome to join you on your bow hunting adventures as an additional hunter or observer. Children ages 12 and under may come for free.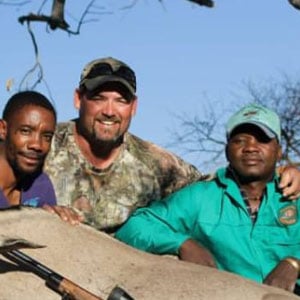 Bob Paro
"I know trying to decide on a place to go hunting in Africa can be difficult. Having hunted the Burchell's Trudia farm in Northern Namibia, I can tell you that it is a great farm to hunt. The terrain has a rugged beauty with lots of great animals. 40 inch gemsbok, 50 inch kudu are all possible. The living arrangement is simple with tented chalets that remind one of days gone by with modern amenities. The Boma is the center of it all with great authentic African meals being served. Scot and Katie are gracious hosts who will instantly make you feel welcome and you will leave feeling like family. Everyone works to make your stay as comfortable as possible. Do not hesitate to book if you get the chance."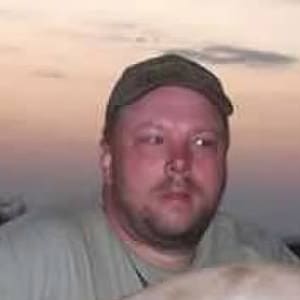 Jeff Smith
"Hi, I'm Jeff Smith I'm from Hernando Mississippi. My first and second safaris were with Scot Burchell and his family. Hunting with them is the best experience I've ever had. Excellent accommodations, the food is great, and the friendliest staff you will ever meet. Their properties are huge and beautiful. The bird life in Namibia is something you just have to experience. Never a dull moment. We saw numerous trophy animals and their trophy care is second to none. I cannot stress enough how important it is to have people who care about your trophies as much as you do. You will arrive as a client and leave as lifetime friends. Thank you Scot for all my memories, I will cherish our friendship forever."
Need to Know Information
Namibia is a prime bowhunting destination. At Burchell-Wolf Safaris, we have top-quality trophies. Bow hunting is not easy. Be sure to practice your skills at the range up to at least 50 yards before your safari to ensure you are capable when an opportunity presents itself.